If your company accounts will be late because of the impact of Covid-19 you can take advantage of the immediate 3-month filing extension for company accounts.
However, you MUST apply before your filing deadline.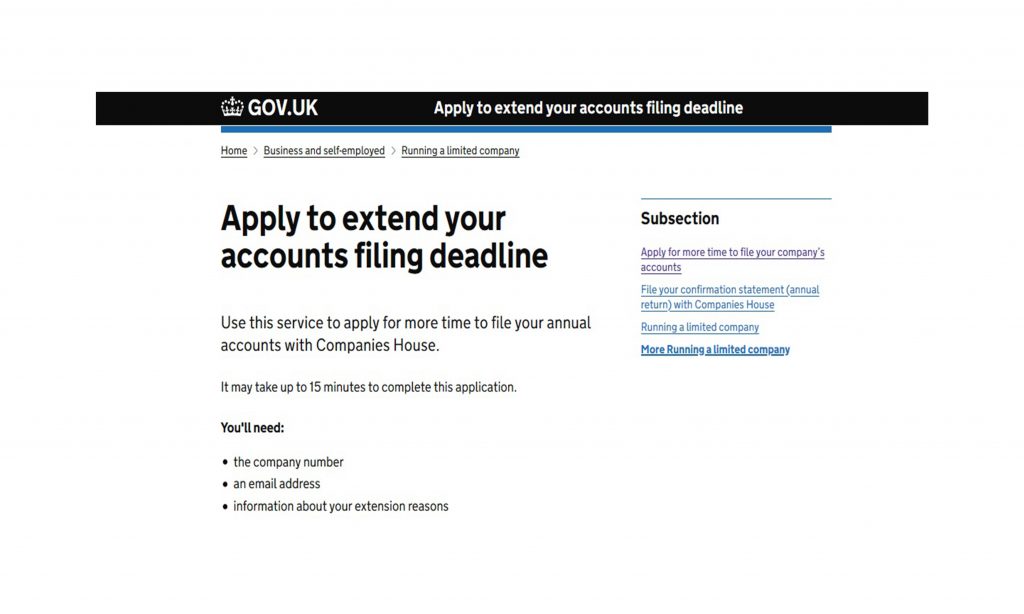 Immediate 3-month filing extension for company accounts
This means that if your accounts will be late because your company is affected by COVID-19, and your filing deadline has not yet passed, you can apply for an automatic and immediate 3-month extension to file your accounts.
Companies that have already extended their filing deadline, or shortened their accounting reference period, may not be eligible for an extension.
What you will need to apply for the filing extension
To apply online you'll need:
your company number
information about why you need more time
any documents to support your applications (optional)
What will happen next
Your application will be reviewed and a decision will be reached about your extension request.
If your application is based on issues around COVID-19, you'll be automatically and immediately granted a 3-month extension.
"We recognise that these are uncertain times for businesses and that's why we're doing all we can to help.
By easing the burden, we can help businesses through this period and enable them to thrive in the future. I would encourage companies who believe they would benefit from this new flexibility to make an application in good time"
Companies House Chief Executive, Louise Smyth
Click here for more information & to apply for an extension
We will keep you updated as the Government releases new information.
Do not hesitate to contact us here by email if you have any concerns or questions regarding the above or the COVID-19 outbreak. We are here for you during this testing time.
Stay safe
From Team HB
Our business contingency plan is in place and we will do everything we can to support our clients during this uncertain period, please do not hesitate to contact us here if you have any concerns or queries.
We are here for you during this difficult time.

If you missed our earlier mail out on "What you can do to help your business/sole trade through the COVID-19 crisis" please click here
If you would like to receive our updates to your inbox please click here to subscribe
The information contained above is for general guidance purposes only. Whilst every effort has been made to ensure the contents are accurate, please note that each individual has different circumstances and it is essential that you seek appropriate professional advice before you act on any of the information contained herein. HB Accountants can accept no liability for any errors or omission or for any person acting on or refraining from acting on the information provided in the above