Successful businesses depend upon strong relationships. Whether internally, with clients, investors, other stakeholders or even competitors, a network developed on deep relationships will open doors for you, refer you and will support you in whatever ways you need. 
Join us at this online event, being held in partnership with Hertfordshire Chamber of Commerce and Ambition Broxbourne, to hear author and international speaker, Andy Lopata, explore the fundamentals of building, nurturing and leveraging strong professional relationships to help to take your business to the next level. 
Labelled 'Mr Network' by The Sun, Andy Lopata was called 'one of Europe's leading business networking strategists' by the Financial Times and 'a true master of networking' by the Independent. A very experienced international speaker, Andy is the author of four books on networking, has been quoted in a number of other business books and is regularly quoted in the international press. Andy is a Fellow of the Professional Speaking Association (PSA) and of the Learning and Performance Institute and a Master of the Institute for Sales Management. He is also one of just 23 recipients of the PSA's top honour, the 'Award of Excellence'.
There will also be a free copy of Andy's new book 'Connected Leadership' up for grabs during the event in a prize draw.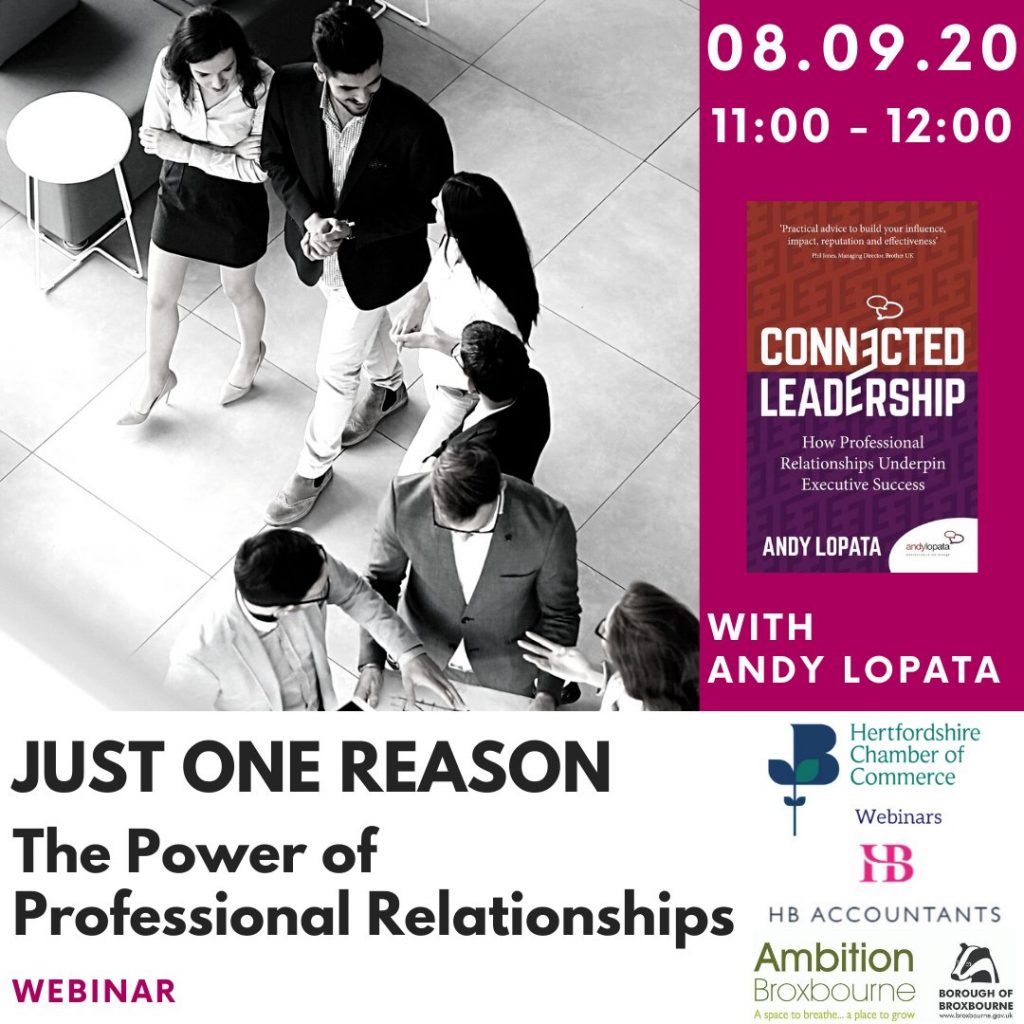 Date: 8th September 2020 | 11:00am – 12:00pm
Thanks to Herts Chamber for the content of this blog.
Contact: Herts Chamber Events Team on 01707 502183 or email bookings@hertschamber.com or click here for more information
Venue: Zoom – The link to join will be sent to you after you have registered
---
n the meantime, do remember that the HB Accountants Covid Hub is jam packed with lots of useful information and links no matter your business size or sector. You can access this here. Alternatively, if you need bespoke advice or would like to spend your SME grant on financial support, please feel free to contact the team on 01992 444466.
We're accountants for business and we're here to help your business grow.
Our Covid19 hub is still available to any business that needs accounting support and our team is on hand for bespoke consultations.
Visit our COVID19 Business Hub for more information
HB Accountants are accountants for business. For financial and accounting guidance and support, please contact Keith or Karen. We're still working hard to help you make the right decisions.
Or call 01992 444466 or email directors@hbaccountants.co.uk for help. We look forward to hearing from you.
---
Latest Blogs from HB Accountants
---
The information contained above is for general guidance purposes only. Whilst every effort has been made to ensure the contents are accurate, please note that each individual has different circumstances and it is essential that you seek appropriate professional advice before you act on any of the information contained herein. HB Accountants can accept no liability for any errors or omission or for any person acting on or refraining from acting on the information provided in the above