Taking place at The Spotlight in Hoddesdon, Hertfordshire this November, the Ambition Conference, is designed to inspire local businesses to grow and excel. HB Accountants has been involved with this initiative from the outset and HB's Keith Grover will be the Chair of the organising committee for the second consecutive year. We asked Keith why he thinks it's worth the time, sponsorship and effort that he and the team at HB Accountants put in. Here's what he said:
"This one-day event is important because it specifically benefits local businesses, local people and local charities. It's designed to boost the performance of your team, company or group. That's good for jobs, business performance and the local economy.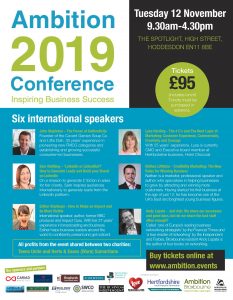 Ambition is run as a London-style event with six international speakers. These high calibre presenters deliver valuable lessons, some of which can be put into practice immediately and deliver tangible benefits straight away. With hot topics that we'd all like to master the event supports individual development as well as business development.
All the money raised from ticket sales helps local charities. This is possible because the speakers and volunteer committee give their time free of charge. Samaritans Herts and Essex based in Ware, and Teens Unite Fighting Cancer based in Broxbourne, are two superb Hertfordshire charities and they'll be the beneficiaries in 2019.
At HB we're all about empowering business-people to succeed with the right accountancy support, whilst also playing our part in the local community. Ambition 2019 plays a dual role helping both business and charity. That's something we applaud."
Who? When? Where?
Date & time: 12 November 2019, from 9:30am to 4:30pm
Venue: The Spotlight, Hoddesdon High Street, Hertfordshire, EN11 8BE.
Attendees: Company directors, business owners, sales and marketing professionals from Hoddesdon, Broxbourne, Hertford, Ware, Cheshunt and the surrounding areas attend this event.
To find out about the fantastic line up, click here
or to book your place please go to Ambition 2019 Conference.
Don't forget that Broxbourne businesses are eligible for a discount code. Just enter "BroxSME" to receive the discount at the point of booking
For professional help with accountancy, payroll, audits and tax please call us on 01992 444466 or email directors@hbaccountants.co.uk